ADX Florence was built in 1994 just south of Florence, Colorado in 1994. It is widely considered the most secure prison in the United States.
Commonly referred to as a "Supermax" prison, ADX Florence takes up 37 acres and can accommodate around 550 prisoners.
Part of the appeal of ADX Florence is the notoriety of the criminals it houses within it.
Some of the highest-profile and most dangerous prisoners have been sent to the facility.
Over 90 percent of all inmates in ADX Florence were transferred in with a history of violence and other uncontrollable actions in other prisons.
ADX Florence Conditions
Florence prisoners are kept in solitary confinement 23 hours per day, with one hour for "recreation."
This sounds standard, but conditions are much harsher than normal prisons.
Unlike other prisons where inmates get to spend time outside, the one hour of recreation consists of being put into a bigger cell called the empty swimming pool. There's only one window in the room.
Prisoners spend this time alone and are shut off from other prisoners and essentially the rest of the world.
In other facilities, inmates get to interact with others. However, at ADX Florence, prisoners do not come into contact with other prisoners for at least the first three years.
Good behavior can get inmates more time outside their cell and possibly even a transfer back to a lower-security prison.
Sensory deprivation
Florence's conditions create not only solitude but sensory deprivation.
Because inmates have no contact with each other or the outside world, they're left to themselves. This can create hallucinations, memory loss, and various forms of irascible behavior.
The prison is nonetheless clean and treatment is fair considering what caused them to be placed there in the first place.
Former ADX Florence wardens have described the prison as a type of "clean version of hell."
ADX Florence Cell Furnishings
Cell furnishings are limited to a bed, desk, and stool. All are made of concrete to prevent them from being moved.
Showers are on timers to prevent flooding. The toilet, sink, and water fountain are built into one unit. Toilets will not operate if plugged.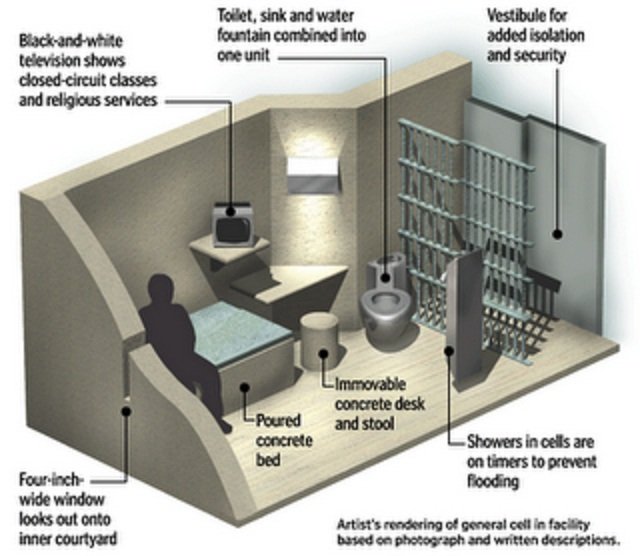 Some cells may have additional furnishings, such as lights, mirrors, radios, and TVs. But they are rarely given to any inmate, especially televisions.
If they are awarded, it's based on good behavior.
Food at ADX Florence
Inmates don't eat in a cafeteria or mess hall. Food is delivered to the cell by guards.
There are three meals a day, mostly consisting of simple carbohydrates.
ADX Florence Security Features
Florence has razor-wire fencing surrounding the facility that goes up 12 feet.
The prison makes extensive use of technology to keep its security.
There are nearly 1,500 steel doors that are remote-controlled.
Cameras and motion detectors are throughout the ground. Laser beams and guard dogs help protect the surrounding fences.
Pressure pads exist within the razor-wire fences to alert guards.
ADX Florence Tours and Visiting
Visiting the penitentiary occurs on Thursdays, Fridays, weekends, and federal holidays.
Visiting hours are from 8:00 AM to 3:00 PM on each of these days. A prisoner is allowed 5 visits per month.
One visit can last up to 7 hours; however, visits may be terminated if there's overcrowding in the visiting room.
There are no actual tours of a security or operational facility. 60 Minutes once gave a segment on the prison, which can be found below.
Famous inmates
Many famous inmates have graced the insides of ADX Florence over the years, leading to its mystique and intrigue among the public.
While ADX Florence has held some of the country's and world's most violent and malevolent criminals, it is also the primary holding facility for convicted terrorists.
The prison currently holds around 350 violent criminals (of a maximum 551 possible). This includes those involved in the February 26, 1993 World Trade Center bombing and September 11, 2001 World Trade Center attacks.
We'll cover a few of the prominent criminals that have been held at ADX Florence below.
Osama bin Laden accomplice Mamdouh Mahmud Salim
Olympic Park bomber Eric Rudolph
Boston Marathon bomber Dzhokhar Tsarnaev
---
Thomas Silverstein, in particular, is often credited with being the reason behind the ADX Supermax system in the first place.
The inability of guards to control his activities led to a record 36 years in solitary confinement in the US prison system, from 1983 to his death in 2019.
The former Aryan brotherhood leader committed four additional murders while imprisoned.
Proponents of ADX Florence and the Supermax system argue that criminals who've shown no regard for human life on a repeated basis should be placed in a maximum-security facility of the likes of Florence.
The likes of Silverstein, who commit additional murders on top of their initial heinous acts, are simply not dissuaded by a judge tacking on an additional life sentence for each murder they commit.
They view themselves as in for life and essentially see that as a free ticket to do whatever they'd like.
Harsher penalties are needed to keep these types of inmates in check to prevent further sprees of extreme violence or even murder.
The threat of solitary confinement at ADX Florence is a better deterrent than another life sentence.