This article required more hands-on (er, hands-off?) research than I am used to doing. But hey, it's hard work, and somebody's got to do it. I guess there are worse jobs out there.
I tried over a dozen of the best male mastubrators in order to find the top 5 currently available on the market. #1 is my favorite, but it's clear to me that everyone will have their own favorite; pleasure is ultimately subjective. One main's torture device may well me another man's favorite toy. Without further ado, I present my top picks for the best male masturbators on the market.
#1 The Fleshy Pro™: A Remarkable (Hands-Free) Experience
Summary: The Fleshy Pro™ stands out as a leading option among blowjob machines currently available. Considering its impressive features and affordable pricing, it's our favorite (by far).
I've always admired products from Fleshy, particularly since the release of the Fleshy 3-in-1™. After testing more than a dozen motorized male masturbators, I found the Fleshy Pro™ to be my preferred choice, although the best choice for any individual will ultimately depend on personal preference.
The Fleshy Pro™ allows for a completely relaxed and hands-free experience, making it possible to indulge in its pleasures whenever and wherever desired. With no need for manual effort, the machine operates entirely on its own, delivering mind-blowing pleasure. The standout feature of the Fleshy Pro™ is its vacuum functionality, a feature that most other toys don't offer, or at least don't offer with such realism. The suction is so well executed that it actaully creates a "jerking" sensation. The vacuum effect enhances the realism of the experience, taking it beyond what you would expect from a typical stroker. (For the most realistic feel, consider warming the sleeve in hot water or using a USB heating rod. A spokesperson for Fleshy has also advised me that the next generation of Fleshy Pro will offer heating as a built-in feature.)
For those concerned about discretion, Fleshy products are shipped in packaging that provides no hint as to the contents inside, ensuring your privacy. The product is also very quiet, compared to competitors.
Pros
Hands-free, quiet operation
High-powered motor
Interchangeable sleeves available for sale
Made with body-safe materials
USB rechargeable (no batteries required) and up to 1 hour of play time
Offers 100 combinations of vibration and suction modes
Constructed with very soft, realistic TPE
Cons
Lacks a socket plug charger; includes only a standard USB charger.
#2 Cafatop
Summary: Although Cafatop stands out with its novel design and robust functionality including multiple modes, certain design inadequacies limit its suitability for larger men. It also suffers from battery and charging issues, and might be a bit loud for some, and overall i'd say it's an inferior male masturbator when compared to the Fleshy Pro.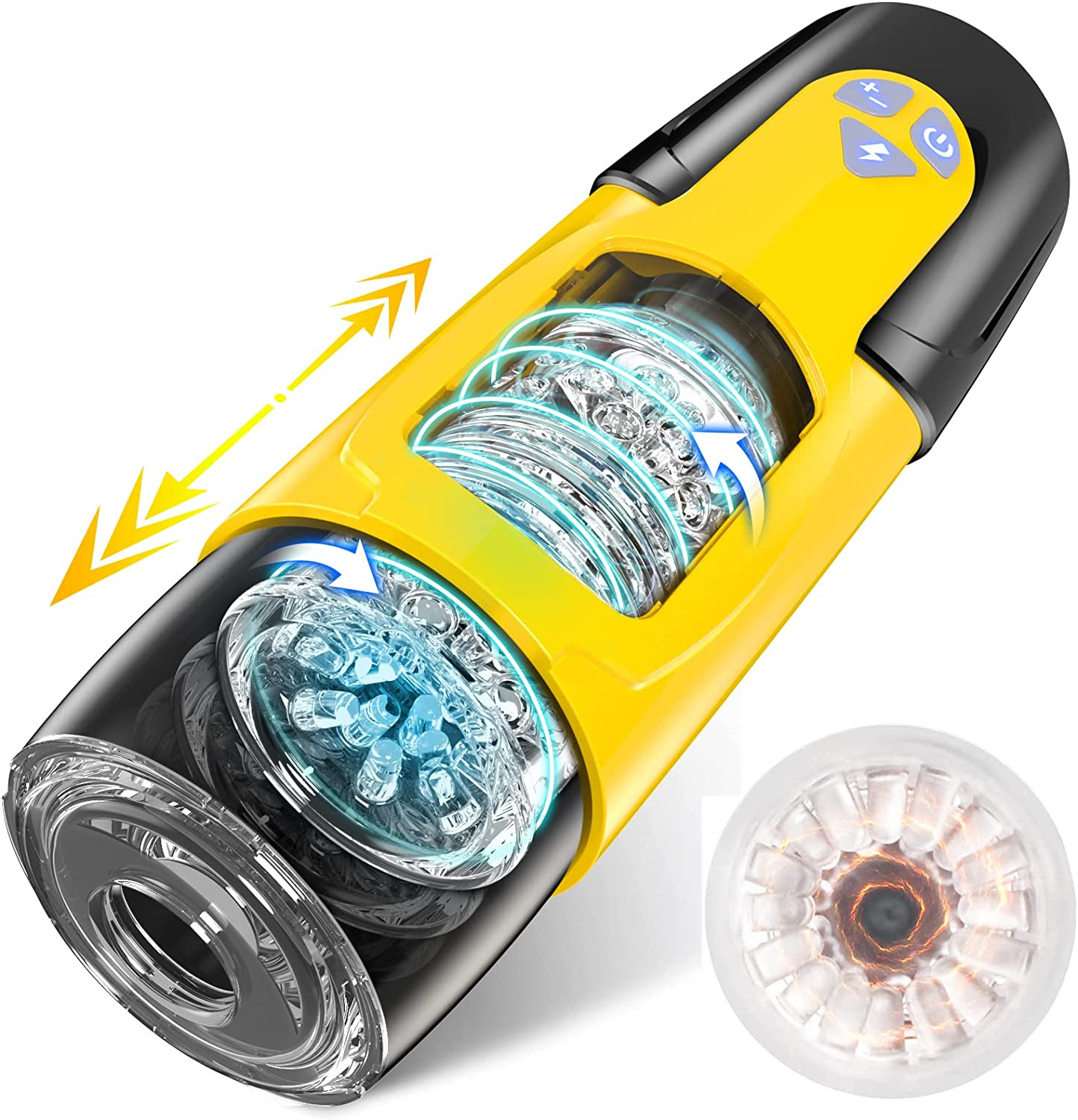 Cafatop provides an uncommon experience with its seven modes of twisting and thrusting, ensuring pleasurable sensations and convenient cleanup. A primary design drawback is the fragile plastic snap locks, which may result in detachment of the cup from the motor. Some users have managed to resolve this issue by inserting screws at the base of the cup, greatly improving their use of the product.
Pros
Seven modes of twisting and thrusting
Consistent battery life
Offers a unique and enjoyable experience to some users
Easy to clean
Cons
Design defect involving plastic snap locks
May not accommodate larger individuals
Problems with the quality of the charging circuit
Potentially noisy during use
#3 EINSEO
Summary: While EINSEO works adequately and could even be a hit among average or larger-sized individuals, it has certain durability issues and may not be ideal for those of smaller size.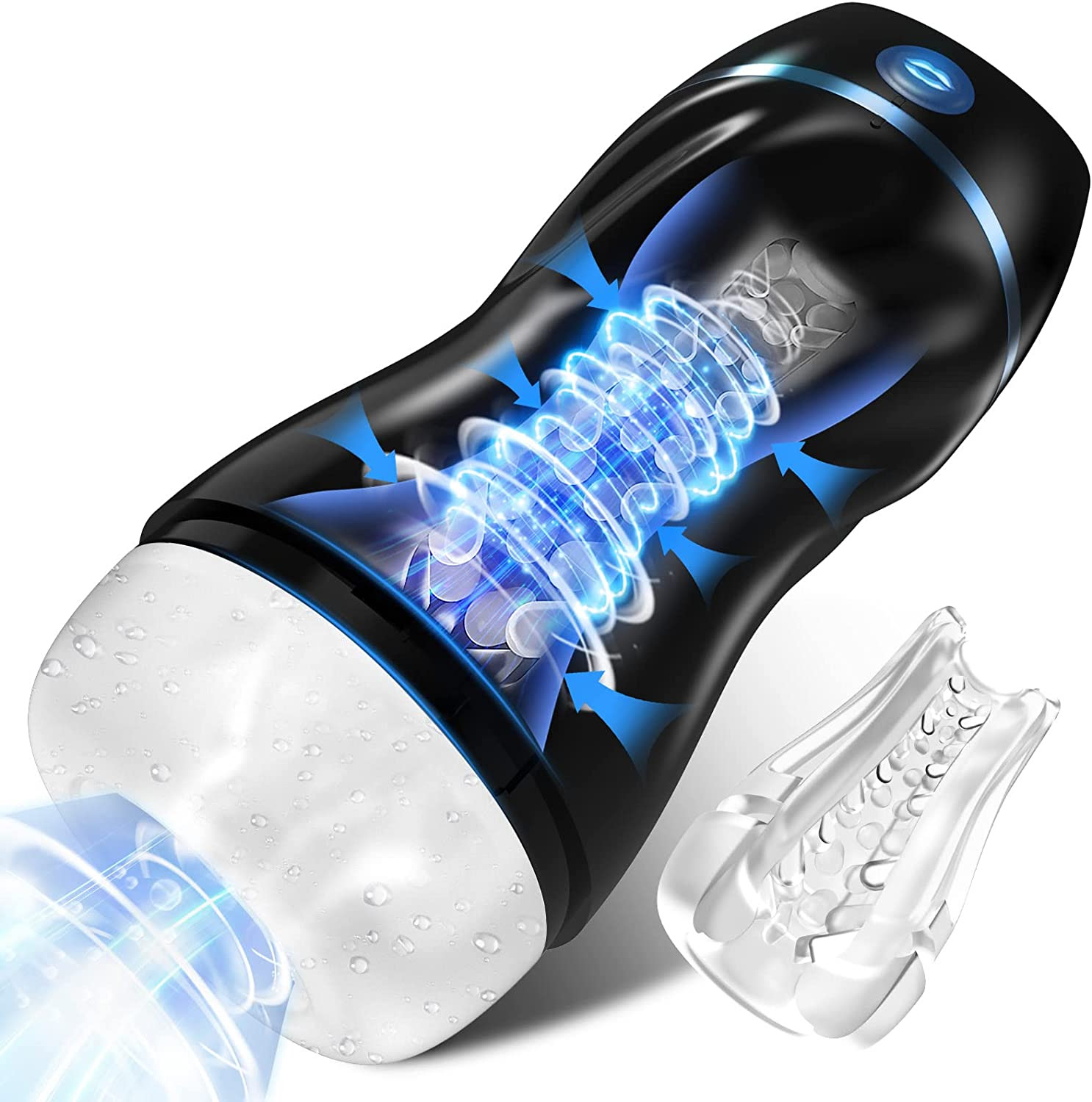 EINSEO yields satisfactory outcomes for many users, mainly due to its simplicity and effectiveness. However, it might not work as efficiently for individuals with a smaller size. A key point is the necessary application of lubricant, which greatly enhances comfort and pleasure. Its durability varies, with some users reporting deterioration of the inner lining after a few months.
Pros
Effective for many users
Easy to use and clean
Multiple settings and suction action
Cons
Requires lubricant for a comfortable experience
May not work as effectively for smaller individuals
Inconsistent durability, with the inner lining potentially breaking after a few uses
#4 Foreglad
Summary: Foreglad delivers a quality experience with its multiple modes, comfortable design, and waterproof features. However, concerns about durability and the unique charging cable could impact long-term satisfaction.
Foreglad is designed for personal pleasure and is well-received for its appealing packaging, functionality, and comfort. It offers 7 suction and rotation modes, multiple adjustment settings, and dedicated power and mode change buttons. The product is IPX7 waterproof, includes a built-in battery, and can be charged via USB. The silicone lining offers comfort, and the overall build quality is considered high-end. Nevertheless, a few users have raised concerns about the material degrading quickly and sensations becoming too familiar over time. The specific charging cable could be inconvenient for some, and including a carrying bag would be beneficial for travel purposes. While the product provides good value, it may not be a long-lasting investment.
Pros
Impressive functionality and pleasure
7 suction and rotation modes
Multiple adjustment settings
Comfortable and waterproof
Built-in battery and USB rechargeable
Premium build quality
Quiet operation
Cons
Concerns about material degradation and longevity
Users might become accustomed to the sensation quickly
Specific charging cable required
No carry bag included
#5 AMOVIBE
Summary: The Amovibe automatic toy boasts impressive features at an affordable price. It caters well to average-sized men and offers a satisfactory experience, but there are some issues with build quality and a need for multiple sleeve options. It's a good toy with potential for improvement.
The Amovibe is a strong automatic toy filled with features, making it a tempting option for those seeking an affordable yet functional device. It offers a snug and comfortable fit for users of various sizes, primarily catering to average-sized men. The toy's automatic functions and intense motions provide a hands-free experience. The vibration features might be less substantial, but the innovative heat feature provides warming sensations, enhancing the overall experience. However, some reviewers report issues with build quality, resulting in delicate and brittle parts. Additionally, larger men may find the toy lacking in desired pressure and could benefit from additional optional inserts. Minor issues with the phone holder and handle designs could be improved in future versions. Despite these concerns, the Amovibe is often considered a worthy purchase for both enthusiasts and newcomers to automatic toys.
For me, though, the toy was terrible. It checks all the boxes on paper but in practice feels like a partner that is just doing everything wrong. There's no variation and no rhythm and the pressure is all wrong. It actually hurt me physically to use this male masturbator.
Pros
Admittedly, it looks really cool
Snug and comfortable fit for average-sized men
Powerful automatic functions and movements
Innovative heating feature
Cons
Design flaws in build quality and handles
Lack of suitable pressure for larger users
Compatibility issues with the phone holder
Literally painful for many users, and not in a good way